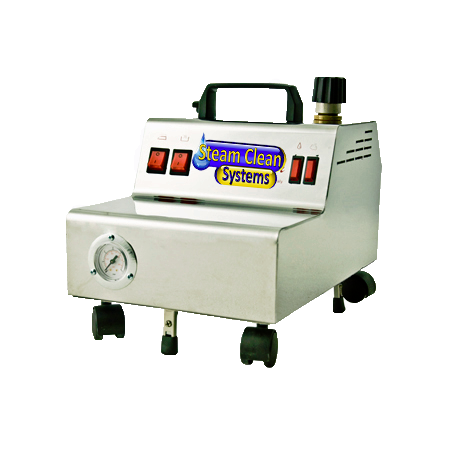 The SC1300 is the perfect Steam Cleaner for the smaller applications. With its powerful 5 bar Steam pressure at 1.56kg of steam per hour and tough ergonomic tools, it is perfect for cleaning and sanitising in Kitchens, Washrooms, Bathrooms and any other application with hard to clean confined areas.
The tough floor tool has the option to attach a micro fibre cloth thus enabling it to be used as a steam mop.
The SC1300 is highly portable and has casters for floor cleaning and flip down feet for standing safely on tables.
It's durable all stainless-steel body allows for the most robust handling, making it perfect for mobile operations such as being transported from site to site.
The 2.4 litre boiler gives a continuous run time of over 1 hour before needing to be topped up.
All our Steam Cleaners have COPPER BOILERS with EXTERNAL HEATING ELEMENTS, this ensures they are not only EXPLOSION PROOF but it means that in hard water areas they are NOT AFFECTED BY LIME SCALE. Just empty and rinse the boiler once a month and have NO Limescale Problems.
This machine is Ideal for people who have been using domestic steam cleaners, but are also disillusioned by the fact that they only last about 2 weeks before they break down and have to be thrown away.
SC1300 steam only cleaner £475.00 + vat