SC2400 Commercial Steam Only Cleaner
For jobs such as equipment cleaning where steam only is required the SC 2400 is powerful enough for even the most difficult of jobs. It has a powerful 2400 watt. Boiler which gives a very high volume of steam 3.2 kg/hr together with a good pressure of 6 bar. The boiler is fed by a 3 litre water container giving a continuous running time of about 1 hour 30 minutes. When the machine runs out of water it is only the bottle in the rear that is out of water, the boiler stays full, so as soon as the bottle is replenished cleaning can comence straight away. This machine is superb for jobs such as oven cleaning or engineering machine cleaning.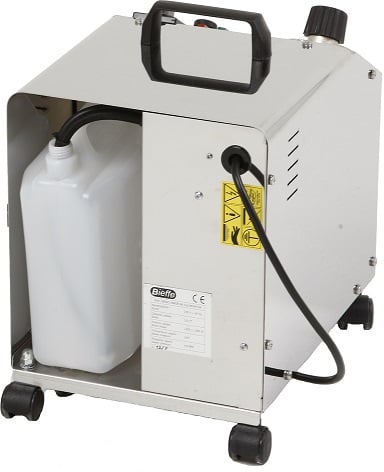 Features
• steam jet continuous and adjustable;
• boiler automatically refilled and is completely Self descaling Click HERE To See How They Work
• designed for connection with Steam Clean System's professional iron and the steam brush to decrease clothes.
Use
The SC2400 commercial steam cleaner combines the power and performance of large generators with high mobility due to its small size (27x39x39cm), typical of machines for domestic use. The SC2400 has a solid/strong design, a durable metal frame and is designed for continuous operation thanks to a system of automatic water refill that ensures an unlimited supply to the boiler.
The SC2400 is a useful tool to:;
• clean hoods and stoves;
• clean bathroom fittings with immediate disinfection;
• kill mold and mildew in the shower;
• remove the silicone rubber and chewing gum;
• clean floors and stairs;
• clean windows and mirrors;
• easily remove grease and dirt from tiles;
• easily remove wallpaper;
• Clean vinyl and suede.
Accessories Included: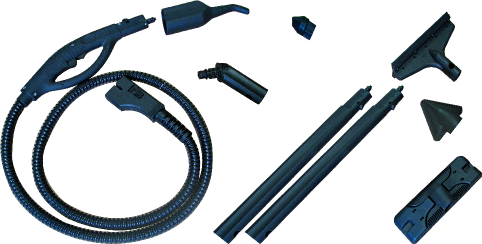 Optional Accessories
Additional optional accessories are also available to increase the capabilities of the SC2000 commercial steam cleaner. See the Accessories page here
Specifications:
| | |
| --- | --- |
| Power | 230V - 50/60 Hz |
| Boiler | 2,2 Lts |
| Power Boiler | 1200+1200 Watt |
| Steam Temperature | 165°C (insider boiler) |
| Steam Pressure | 6 Bar |
| Productivity | 3,2 Kg/h |
| Water Tank | 3 Lts |
| Dimensions | 27x39x39 cms |
| Weight (without accessories) | 9 Kgs |
| Weight (with accessories) | 11 Kgs |
| Vapor Pressure | Adjustable |
| Automatic alarm no water left | Light indicator |
| Total discharge of water through the valve | * |
| Nebulizer pressure, detergents or disinfectants with optional accessory CVK36 | * |
| The wheels may be braked | * |
Service Second To None!
All Steam Clean Systems commercial steam cleaners carry a 12 months parts and labour guarantee with on site repairs wherever possible.
All our Explosion Proof copper boilers carry a 2 year replacement guarantee
To Book a No Obligation Free Demonstration Click Here
SC2400


£950.00 + VAT OR £8.59 per week over 3 years (subject to status)