For jobs such as equipment cleaning where steam only is required, the SC2400 is powerful enough for even the most difficult of jobs.
The SC2400 has 2 x 1200-watt heating elements which gives a very high volume of steam. 3.2 kg/hr together with a high pressure of 6 bar, the boiler is fed by a 3-litre water container giving a continuous running time.
Once the bottle in rear of the machine is empty simple remove from the machine and refill. The boiler always stays full, as soon as the bottle is replenished cleaning can commence straight away. This feature will eliminate any down time waiting for the machine cool down before refilling.
The SC2400 commercial steam cleaner combines the power and performance of large generators, with high mobility due to its small size (27x39x39cm).
The SC2400 has a solid/strong design, a durable stainless metal frame and is designed for continuous operation thanks to a system of automatic water refill that ensures an unlimited supply to the boiler.
This machine is superb for jobs such as oven cleaning, sanitizing, steam only cleaning and extended use where a direct fill machine will not meet the run time required.

Power Supply.................................. 230V - 50/60 Hz
Boiler Capacity............................... 2,2 Litres
Power Boiler.................................... 1200+1200 Watt
Steam Temperature........................ 165°C (insider boiler)
Steam Pressure............................... 6 Bar
Steam Volume................................. 3,2 Kg/h
Water Tank Capacity...................... 3 Litres
Weight (without accessories) ........ 9 Kgs
Weight (with accessories) .............. 11 Kgs
Adjustable Steam Volume.............. Yes
Low water alarm..............................Yes
The Handy SC2400 £950.00 +vat in stock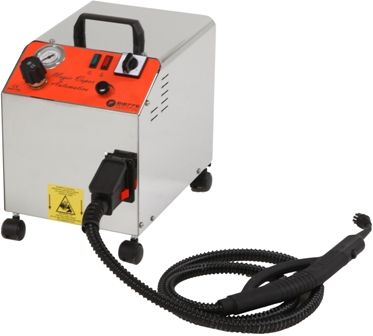 or £13.52 per week on 3 yr lease (subject to status)