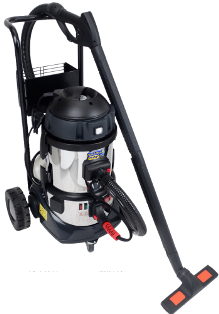 THIS POWERFUL STEAM AND VACUUM CLEANER CAN BE RENTED WITH THE TROLLEY AND FULL SERVICE FROM AS LITTLE AS............
£34.00 + vat PER WEEK
ON JUST A 6 MONTH CONTRACT
AND OF COURSE IT CAN BE PURCHASED AT A VERY SPECIAL N.H.S. HOSPITALS DISCOUNTED PRICE OF
£1196.25 + VAT
PHONE 01903 755128 FOR SPECIAL PRICE
Our SC2000 is the UKs most reliable steam and vacuum cleaner on the market today, thanks to it's SELF DESCALING BOILER. It has high volume 6 bar steam which is guaranteed to sanitise as it cleans. This coupled with a powerful 2 stage vacuum makes this one of the most versatile steam cleaners available.
This machine is used by The Royal Free Hospital in their Acute Infectious Disceases Isolation Ward.
JUST PHONE 01903 755128
OR EMAIL [email protected]
For a NO OBLIGATION on site demonstration