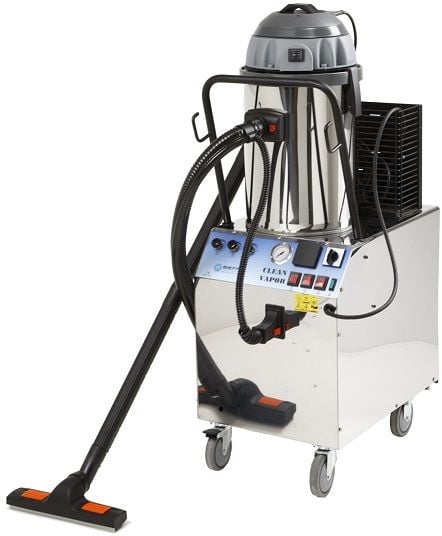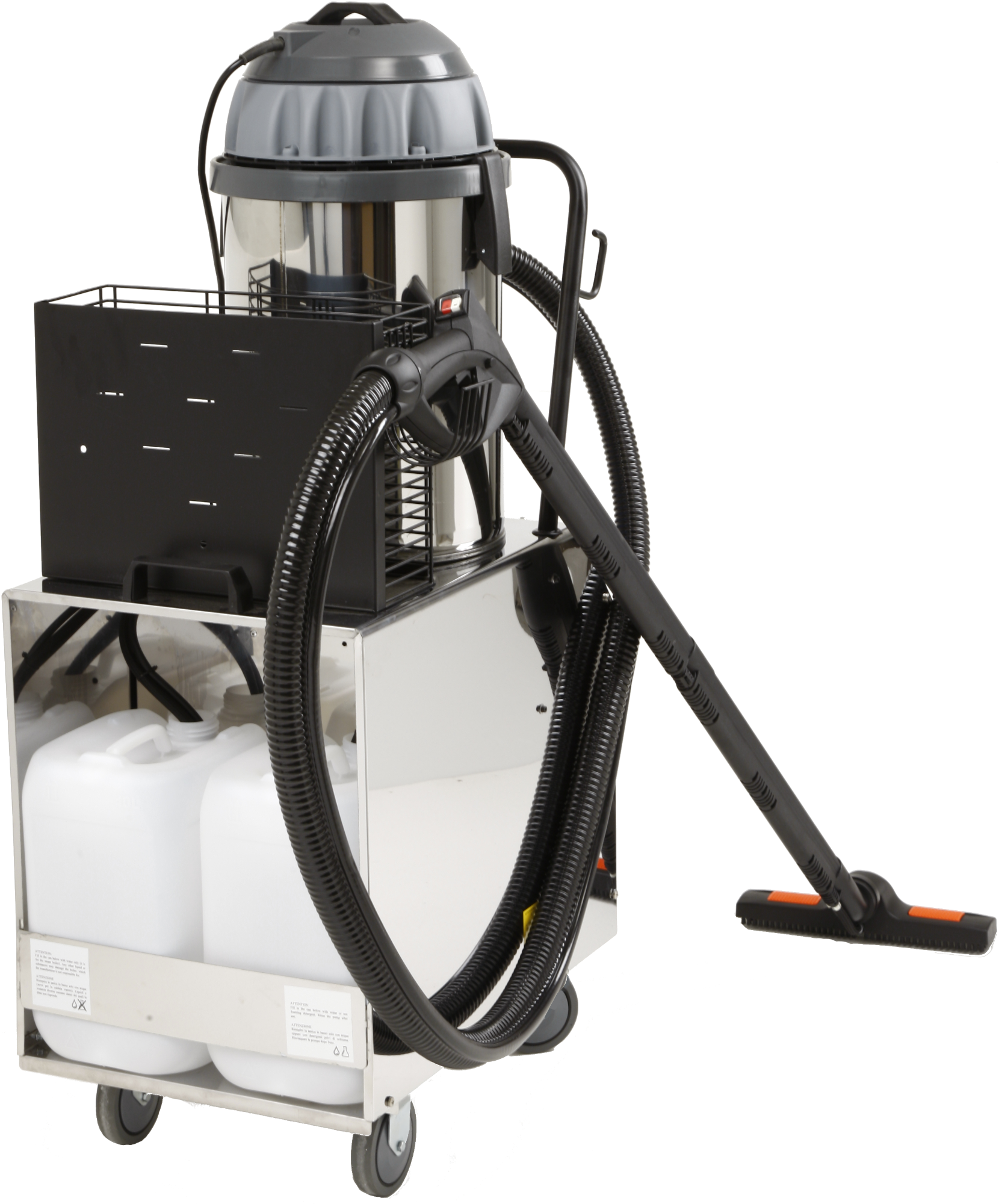 The SC3000 Industrial Steam Cleaner is one of the most powerful single phase steam cleaners on the market today. It has all the power and capacity to meet the most demanding industrial jobs. The 3 x 1000w heating elements produce steam at a pressure of 8 bar, with an enormous volume of 6.2 kg/hr. The 10-litre water reservoir gives it over 3 hours continuous running time on one top up.
The machine also comes with a detergent injection option to aid in cleaning built up dirt and debris. The enormous 23 Litre waste tank and 2 stage 1000-watt Vacuum to remove the waste. In addition the SC3000 also has a unique pressure water facility which is incredibly useful when a surface needs rinsing or for extraction cleaning.
The SC3000 Industrial Steam Cleaner utilizes the latest steam technology and uses very little water with no harsh chemicals. This helps to provide the maximum standard of cleaning, hygiene and sanitising with minimum environmental impact. The SC3000 Industrial steam Cleaner is perfect for all the heavy-duty cleaning jobs such as Commercial Kitchen deep cleaning. Heavy duty degreasing in places such as industrial machine shops and heavy engineering clean ups.
All our Steam Cleaners have COPPER BOILERS with EXTERNAL HEATING ELEMENTS. This ensures they are not only EXPLOSION PROOF, it also means that in hard water areas they are NOT AFFECTED BY LIME SCALE. Just empty and rinse the boiler once a month and have NO Limescale Problems.


Electrical Supply....................................230V 50/60Hz
Boiler Capacity .....................................5 Lt
Automatic Boiler Filling.......................Yes
Max Boiler Power.................................1000 +1000 + 1000watts
Steam Temperature (inside boiler)....190°C
Steam Pressure (inside boiler)............8 Bar
Steam output........................................6 Kg/h
Vacuum Motor .....................................2 stages1000 Watt
Water Tank Capacity...........................10 Lt
Water/Detergent Tank Capacity........10 Lt
Waste Tank Capacity...........................23 Lt
Detergent Temperature .....................40°C
Weight (with accessories)...................43 Kg


OR £28.03 PER WEEK ON A 3 YEAR LEASE (SUBJECT TO STATUS)
for an SC3000 training video
We're always happy to help, if you have a query, or require a FREE onsite demonstration with no obligation