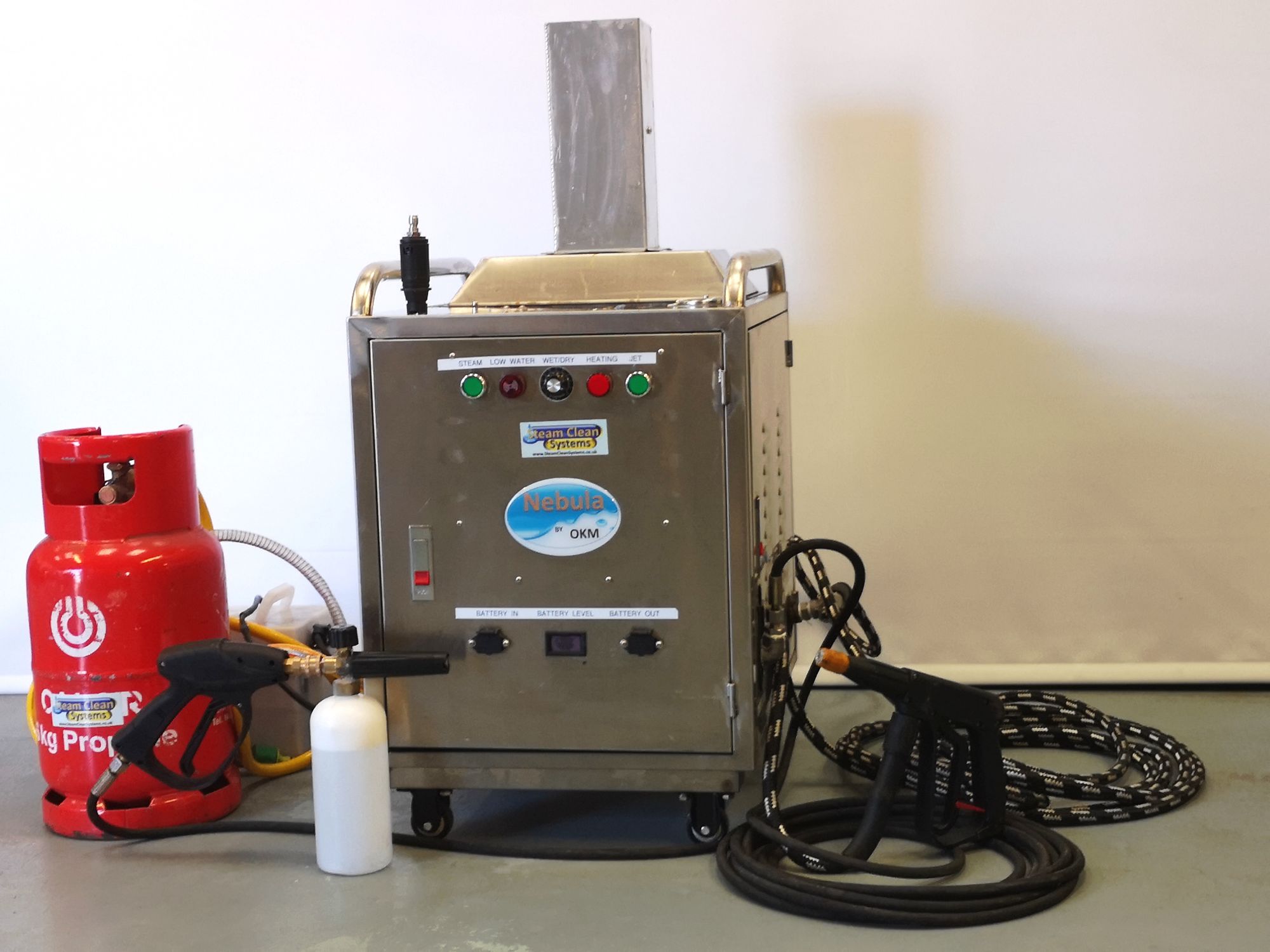 Until now the car cleaning fraternity have had to rely on pressure washers using up to 12 litres of water per minute or steam cleaners using less water but using diesel burners with all their deadly fumes when burned and the mess and smell that diesel oil can cause if spilled. Both of which require a mains water and Electricity connections.
The Revolutionary Nebula automotive steam cleaner produces a massive 44kg of dry steam per hour at a pressure of 20bar through two hoses (optional) uses bottled propane gas as a heating agent. Propane gas, owing to its much cleaner burn, can be used indoors as long as the room is well ventilated.
The machine is completely autonomous and needs no mains connections whatsoever if used with a water bowswer. On static sites it can be connected to mains water with a hose. The Nebula gets its Electrical supply from a powerful 48volt battery that when charged overnight will run the mac hine for 20 hours.
The Nebula also has a low water usage 70bar pressure washer built in for rapid removal of thick mud and this can be used for snow foaming using the snow foam gun supplied.
A car can be cleaned in under 15 minutes using less than 5ltrs of water.
The Nebula system offers users the opportunity to:
Dramatically reduce their water costs
Cut out chemical and detergent costs completely
Save money on installing expensive drainage systems that meet DEFRA standards
Drastically reduce cleaning time with visibly superior results
Efficiently clean the exterior of the vehicle,the engine bay, alloys, tyres and under wings, using the one system
Clean vehicles indoors in well ventilated areas
Use a low water usage70bar pressure washer for rapid removal of thick mud and Snow Foamimg
NEBULA CAR WASH £3600.00 + vat
OR £32.55 PER WEEK ON 3 YEAR LEASE (SUBJECT TO STATUS)